Model Cars Online, Diecast, Model Car Kits & Remote Control Models
Model cars are Silent Autos. We are an online, family run business – with a passion for the beauty and diversity of the automobile. A top quality diecast model car is one of life's finer pleasures for the motor car enthusiast. We recommend that you look closely at our prices and please don't tell our competitors.
Working with high quality model manufacturers like AUTOart, Kyosho, Minichamps, Matrix and CMC we bring you the most detailed, lovingly-crafted and classy replicas including great favourites like a diecast model Lamborghini, Jaguar, Ferrari or Bugatti.
We beat everyone on price for the hot, 2016 release of the Ferrari 250 GTO by CMC Model Cars and no surprise that we frequently get asked for the AUTOart DeLorean DMC-12.
Our new model car store room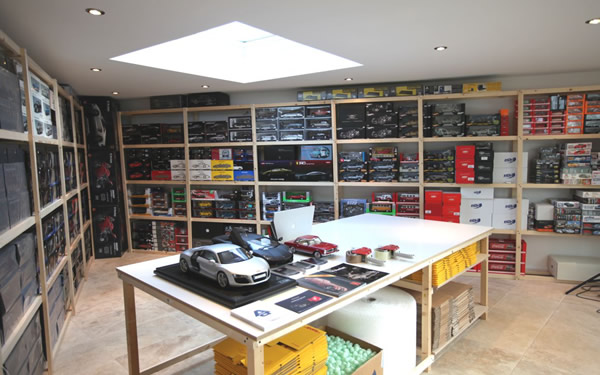 We now hold more stock and more brands than ever before. See more images on the About Us page.

Pocher Kit 1:8 Scale Model Lamborghini Aventador Matt Black
This is a short film created produced and shot by the Silent Autos team to show off the new Pocher kit model Lamborghini Aventador. The model was constructed over a weekend from 796 parts made of metal, plastic and rubber. With the aid of a few magnetized tools, various glues and additional paints created this awesome looking model car.
The details and finishing are both spectacular, with opening scissor lift doors, hood and bonnet and a retractable rear spoiler adds to the realism of this model kit.
So we thought it would be a nice idea to showcase the truly spectacular details of this car against a cool and harmonic soundtrack in a dark and mysterious setting to bring out the character of the raging bull, or as we all know it to be Lamborghini.
News and views
The Silent Autos collection is rapidly evolving and we are always on the look-out for rare collectibles as well as fun and interesting automobile related gems to share with you. Everything on our site is stocked in abundance, and with our express delivery you can receive your model promptly ready to proudly display.
Look out for regular special offers and information on rare releases.
Style and imagination
A replica should capture the essence of the original. While a Lamborghini Diablo might evoke your desire for a playboy lifestyle, an Aston Martin is for the discerning, fun addition for a James Bond aficionado.
As the design and aesthetics of a model car may not satisfy a lust for the adrenaline rush of speed – our delightful range of remote controlled cars will help to fill that void. For an alternative thrill, we also have remote controlled helicopters and RC quadcopters.
Display and attraction
Model cars of such precision deserve to be showcased. Our illuminated display cases have been engineered to fit the specific size of your car, and complete with flat panel LED lighting; they will keep your miniature car in pristine condition and the centre of attention.
Personalised engraving
Miniature model cars need more than just to be on display. Our personalised engraving service will add the final touch of class your model deserves. Add an inscribed message or a logo to really get your car across the finishing line.