Illuminated Display Cases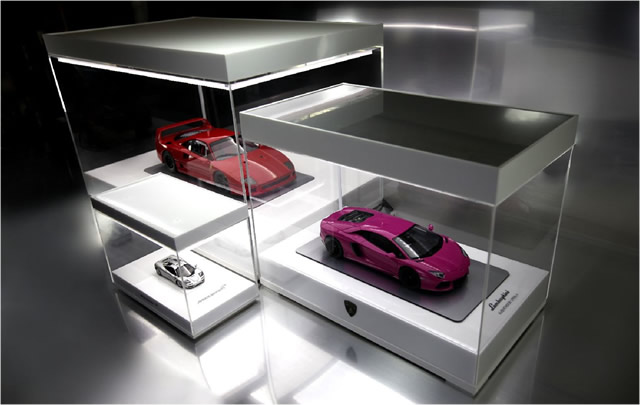 At Silent Autos we have designed and produced our very own LED illuminated display cases exclusively for our customers. We have developed them over the past year, building prototypes to perfect them to a point that they can be made affordable and desirable to our customers. We have created three different scales to suit your ideal model car, or collection of cars. They come in 1:12, 1:18 and even 1:43 scale.
We feel they compliment our products rather well and are suitable for the home and office as well as for corporate gifts, events and even for displaying in car showrooms. The cases offer a unique look and complement the models with a dynamic edge. With a minimal, sleek, modern design they look stunning in any position. We also offer a dimmer control as an optional extra to create the perfect ambiance for your model.
Customisation
At Silent Autos we love model cars and want to create the perfect display to show them off. We are able to build these cases from scratch in-house, enabling us to be flexible on order requirements and to make the cases entirely bespoke, tuned to your personal preference. Just give us a call or drop us an email to discuss your ideas.
You can choose the colour of the case, as well as the lining on the base and top of the case. You can choose what you would like to have engraved on the case and what colour you would prefer the engraving to be.
Customisation is a speciality since our sister company Krintech.co.uk produces a huge range customisation styles and you can see examples on their laser cutting page where you'll see customised display cases at the bottom.

Design, Materials and Construction
The main casing is made out of 4mm clear cast acrylic. The header unit attached to accommodate the latest technology in slimline LED lighting panels. The base is also made of acrylic with a low housing to accommodate the simple internal wiring system. All the parts have been laser cut and assemble to create seamless joins. Once the model car has been installed it's just a matter plugging in the mains power and switching on the lights.
Our cases are designed to ensure installation is simple for the user. You will receive the display case unit and model car in separate packages. This is to reduce the risk of damage to either the case or the model. The display unit will comprise three detachable parts, each pre-built for ease of use. The car will need to be screwed to the central base which detaches from the main base. Then simply plug in the chord and switch on the 12V LED lights.
All cases are fully tested before they leave our premises.
Lead Time
We require 9 working days from placement of the order to build your bespoke case to your specification. Please note that any special requirements may require a slightly longer build time, but we can let you know of the lead time once we have discussed your specifications.
Please note, as this is a bespoke service and we will be building an illuminated display case to your specifications, this item is non refundable.